Projects
Past projects
6000 yard dump scow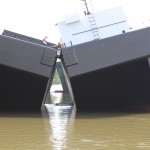 Corn Island Shipyard entered an agreement to build two ABS classed dump scows in the fall of 2011. The vessels would be 296′ by 54′ by 25′ 6″ and 1700 tons in steel weight. The proprietary teardrop bow was designed by Corn Island's industry leading engineering personnel. Construction of the bow was also done in-house by our dedicated, highly-skilled shipbuilding personnel. The scow's hinge is actuated by a pair of 10 3/4″ diameter cylinders which endure up to 5000 psi. A Cat C7 engine, producing approximately 250HP, is used to provide power to the cylinders. The combination of these systems allows the scows to dispose of up to 6000 cubic yards of cargo. The final barge in the series was launched in June of 2013.
110,000 bbl tank barge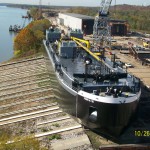 In 2007, Corn Island Shipyard was contracted to build five heated petroleum tank barges in excess of 80,000 bbl. The largest of these was 110,000 bbl in capacity and featured a 10 million btu heating system. This system required over 6 miles of thermal piping, using 18 inch piping and two 3000 gpm cargo pumps driven by 550HP CAT C18 engines. Four gen sets, three 150KW and one 65KW, were used for electrical power. EMS provided a tank gauging system with overfill alarms. The ballast system on the barge used 3000 gpm Byron Jackson pumps. This barge measured 414′ by 74′ by 31′ with a 3200 ton steel weight. The third in its series of five, it was delivered in 2009.
4600 ton casino barge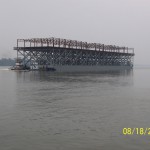 In August 2006, Corn Island Shipyard launched the first of two casino barges. At the time, it was the largest inland river launch in history. The hulls were 475′ by 106′ by 14′-0″ with a steel weight of over 4600 tons. The superstructure of the barges made the total height of the vessels 76′-4″. To provide maneuvering, each barge contained two z-drives provided by Thrustmaster of Texas. Each barge was designed to support an end of a casino building, and would require the barge hull to be submerged. This was accomplished by attaching 40 hydraulic cylinders to the shore, and using 3000 psi of pressure to hold the barge at the desired depth.